About Us
Frank Hobson and Lenny Mulheron are the directors of Ricochet Yachting. They are the team behind providing Sydney and the Whitsundays with a premium luxury yacht charter experience.
Frank has spent his whole life on, under or next to the Ocean, his professional yachting career has spanned 20 years travelling the globe as Master on some of the world's most prestigious and innovative Super Yachts.
Frank has spent several years in command of different billionaire's yachts including Richard Branson's private yacht 'Necker Belle'.
From his beginnings in the Bass Strait of Australia to running Super-yachts throughout the Caribbean, Mediterranean and the Pacific, Frank has retained his professionalism and continues to ensure a high standard of excellence.
Lenny began her career in the hospitality industry. She has excelled in all aspects of the industry and worked along with Frank internationally on the yachts of the rich and famous.
She has a keen eye and exacting attention to detail. She has managed many events in her career from intimate dinners and cocktail parties to Sir Richard Branson's New Years Eve extravaganza on Sydney Harbour.
Lenny along with her team of event management specialists can create the perfect personalized experience for your time on Ricochet. She also trained at Le Cordon Bleu and is the head of catering on board Ricochet.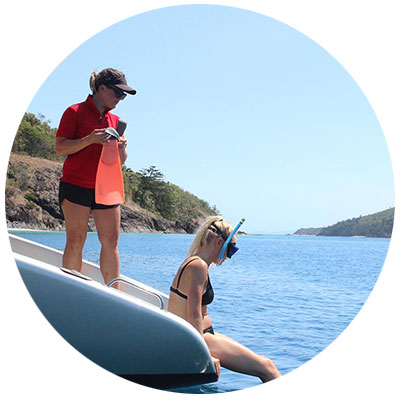 Hamilton Island's private yacht charter, cruise and boat hire experts.
Soak up the sun, swim, walk, relax & play
Ricochet is fully licensed.
Enjoy lunch, afternoon tea. Plus snorkeling equipment and beach toys are provided.
Sophistication & speed without compromising on comfort.
A perfect match for the clear turquoise waters of the Whitsundays.
Frank Hobson
m. 0458 755 668
e. frank@ricochetyachting.com
Lenny Mulheron
m. 0408 755 668
e. lenny@ricochetyachting.com
General Enquiries
e. enquiries@ricochetyachting.com